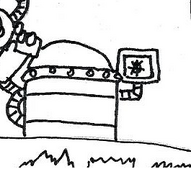 The
Freezing Machine
is a machine built by
Bing
in
Episode 103
to combat a heat wave currently hanging over the
Gooptar Kingdom
. It is a large cyndrical machine with a glass dome on top of it and a small control panel with a snowflake on it sticking out of the side. As shown in the episode, it has a habit of malfunctioning, causing explosions.
Near the end of the episode, the freezing machine is repaired by Bing off-panel and outfitted with a gun-type attachment. Goop then uses the freezing machine to defeat Frogrump.
Ad blocker interference detected!
Wikia is a free-to-use site that makes money from advertising. We have a modified experience for viewers using ad blockers

Wikia is not accessible if you've made further modifications. Remove the custom ad blocker rule(s) and the page will load as expected.