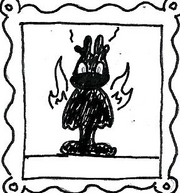 Gary the Unfortunate is a purple gooptar mentioned in Episode 104 of Goop: The Comic. He was the Gooptar Kingdom's great hero long ago (exactly how long ago he lived is not explained). Marco states that he had the (useless) ability of spontaneously combusting through sheer willpower. However, as Marco states, Gary "did not last long", implying that his powers did him in fairly quickly.
Ad blocker interference detected!
Wikia is a free-to-use site that makes money from advertising. We have a modified experience for viewers using ad blockers

Wikia is not accessible if you've made further modifications. Remove the custom ad blocker rule(s) and the page will load as expected.