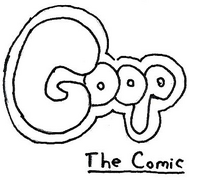 Goop: The Comic is an online web comic written and illustrated by Justin Wolfe, based on original characters he created. It centers around the purple gooptar Goop, who lives in the Gooptar Kingdom on the planet Gooptonia. Throughout the comic, Goop fights a variety of different villains, the most important of which is the evil King Grex. The first episode was released on February 25th, 2015. The comic currently has an official Facebook page.
Overview and Format
Edit
Goop: The Comic's story is separated into issues, which are treated more like seasons of a television show, containing multiple episodes that build up story arcs and introduce characters. While a majority of the episodes contain their own self-contained story as well, they also contribute to the overall story of the comic.
As of yet, only the first four episodes of Goop: The Comic #1 exist.
The Goop CanonEdit
| Episode | Title | Notes |
| --- | --- | --- |
| Episode 101 | Snaptrap Attack | First appearance of Goop, Bing, Draclo, Blossom, Marco, King Grex, Moki, Shelldon, Captain of the Guard, Bongo, and Snaptrap |
| Episode 102 | Rumble in the Jungle | First appearance of Chomper, Jailbird, and Petunia |
| Episode 103 | Goop vs. the Amphibious Adversary | First appearance of Frogrump |
| Episode 104 | Magic of the Opals | First appearance of the Magic Opals |
| Episode 105 | The Arrow of Revenge | First appearance of Tawnya |
| Episode 106 | | |
| Episode 107 | | |
| Episode 108 | | |
Ad blocker interference detected!
Wikia is a free-to-use site that makes money from advertising. We have a modified experience for viewers using ad blockers

Wikia is not accessible if you've made further modifications. Remove the custom ad blocker rule(s) and the page will load as expected.