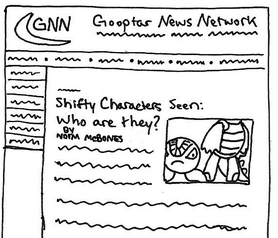 The
Gooptar News Network
, or
GNN
for short, is the main news outlet in the
Gooptar Kingdom
. It appears to be mainly an online news website, rather than a television show (although one may exist). It is a parody of CNN, the Cable News Network.
GNN first appears as a website Bing is browsing in Episode 103. On the site is an article entitled "Shifty Characters Seen: Who Are They?", written by someone named Norm McBones. The article apparently details sightings of Moki and Shelldon around the kingdom.
Ad blocker interference detected!
Wikia is a free-to-use site that makes money from advertising. We have a modified experience for viewers using ad blockers

Wikia is not accessible if you've made further modifications. Remove the custom ad blocker rule(s) and the page will load as expected.