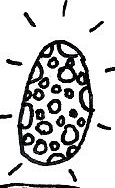 Magic Opals are important objects in Goop: The Comic. They are magical, orange, egg-shaped objects that were created when Gooptonia was first colonized, and they supposedly contain the life energy of the planet. They contain an ancient power that Princess Blossom is said to have control of due to her royal lineage, but this power has yet to be seen.
Ad blocker interference detected!
Wikia is a free-to-use site that makes money from advertising. We have a modified experience for viewers using ad blockers

Wikia is not accessible if you've made further modifications. Remove the custom ad blocker rule(s) and the page will load as expected.