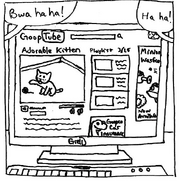 Moki's computer
is a computer used (and possibly built) by
Moki
and
Shelldon
. The computer thus far has only been seen in 
Episode 102
at the episode's beginning, where Moki and Shelldon are watching videos of adorable kittens on the social video site
GoopTube
.
Shortly after, King Grex summons the two lackies using a Facebook-like social website which has yet to be named.
The computer's brand is "Grell", which is a clear reference to the "Dell" brand of laptop.
If Bing invented his own computer, it is unknown how Moki and Shelldon obtained one.